---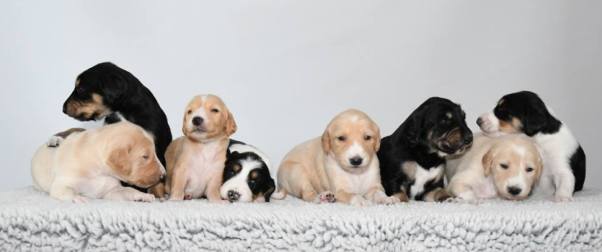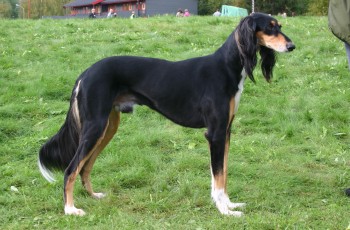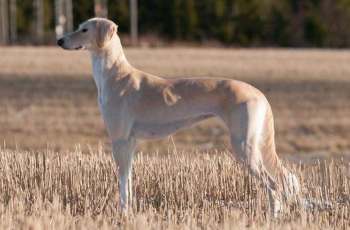 7 males & 1 female
Cadi meaning Luck
N UCH
Caravan
Talisman
CH
Caravan Rashiiq Ibn Saad
Asayaad Jiruwan al Caravan
Knightellington Vagrant
Shamsa Bint Sha'awa Bint Warda
Caravan Pan The Egyptian Princess
Al-Yaman Malak al Caravan
Sharqiy Shaman Labiqa
Caravan Qatiifah
Bint Jabiya
Asayaad Jiruwan al Caravan
Knightellington Vagrant
Shamsa Bint Sha'awa Bint Warda
CH
Caravan Jabiya el Shammar
Caravan Crazy Diamond
CH
Caravan Felicia
N UCH
Mwinda Zibiah
CH
Al Yaman Najaah
Al Yaman Jamil
Al Yaman Ihsaan
Al Yaman Fairuuzi
CH
Knightellington Vivat Al Yaman
Akeldama Midnight Silk of Farni
Knightellington Portia
Al Yaman Shaadin
CH
Knightellington Cass of Al Yaman
Sunswift Atiq
Knightellington Asira
Knightellington Ana Al Yaman
Dakhilak Shalm
CH
Knightellington Zafa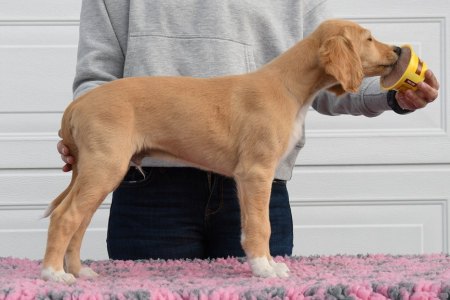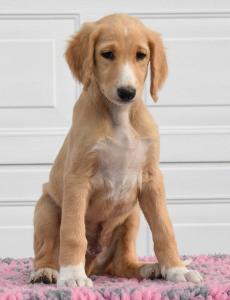 Qatiifah Cadi Cabir - Cabir meaning Powerful/Leader
8 weeks, golden male - "Harry"
Owner; Terri Fortner Jackson, USA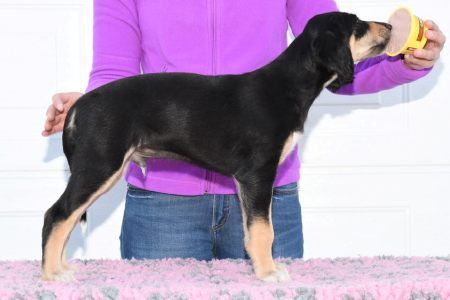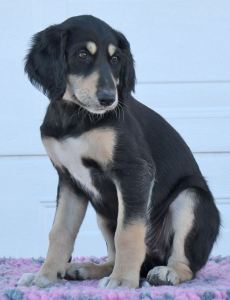 Qatiifah Cadi Chien - Chien meaning Shadow
8 weeks, black & tan male - "Maestro"
Owner; Sylvi Hovde & Anne Dyrnes, Yazid Salukis, Norway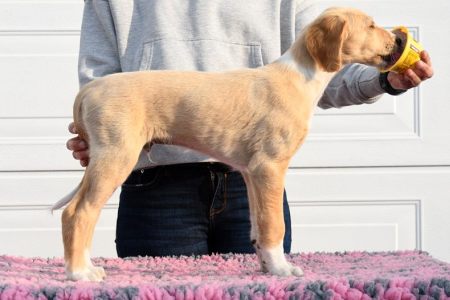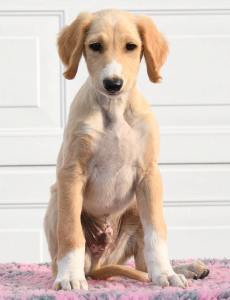 Qatiifah Cadi Chams - Chams meaning Sun
8 weeks, golden male - "Chams"
Owner; Frances Zeller & Stephanie Gamble, USA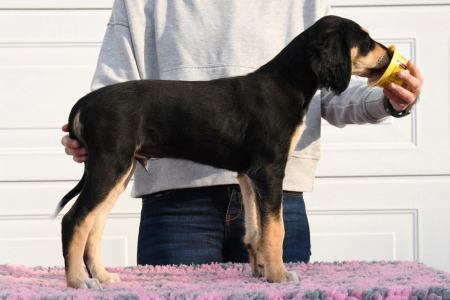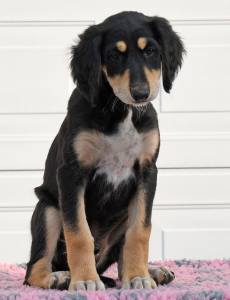 Qatiifah Cadi Chait - Chait meaning Mind/Wisdom
8 weeks, black & tan male - "Bobby"
Owner; Annika & Britt-Marie Bäckström, Sweden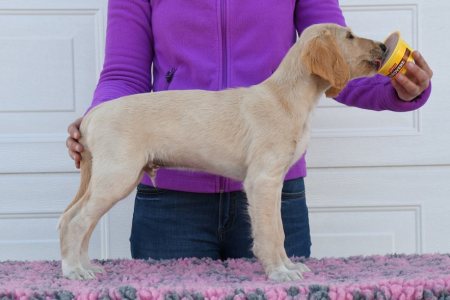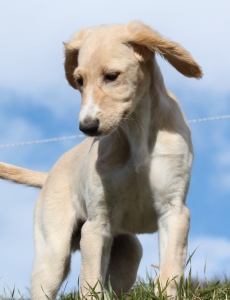 Qatiifah Cadi Chief - Chief meaning Head/Leader
8 and 11 weeks, creme male - "Hassel"
Owner; Eva Reyes Garcia & Lotta Brun, Spain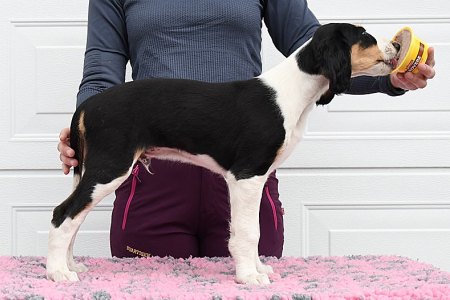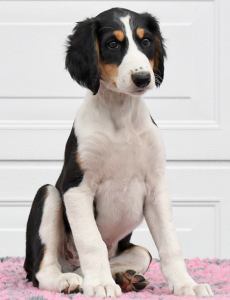 Qatiifah Cadi Careem - Careem meaning Generous
8 weeks, tricolor male - "Scott"
Owner; Mai Britt Emblem, Norway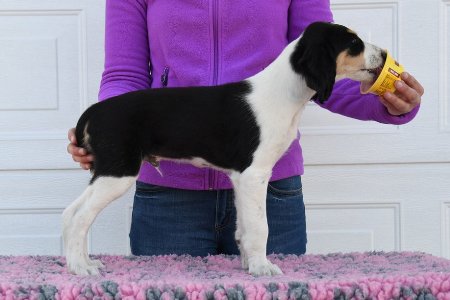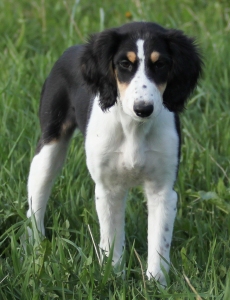 Qatiifah Cadi Changez - Changez meaning Firm/Solid
8 & 12 weeks, tricolor male - "Chèrif"
Owner; Astrid Moegling, Germany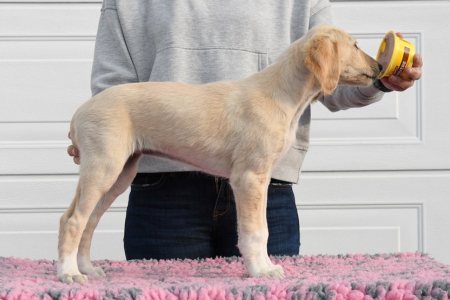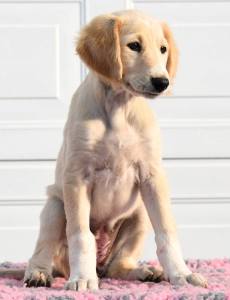 Qatiifah Cadi Cailie - Cailie meaning Beloved
8 weeks, creme female - "Cailie"
Owner; Linn Mari Sørgård, Qatiifah Salukis
We are very proud to announce Qatiifah Salukis C litter!
Both Zibiah and Timmy have pedigrees going mainly back to the old Knightellington breeding of Lady Amy Laurie Gardner, Mrs Helen Baker and Mrs Rosemary Lewis. Lady Gardner's dream was the triple purpose hound - companion, hunter and show dog. This is what we hope for with this breeding, and we know both parents, as well as their ancestors, have or had these qualities.

Zibiah easily gained her Show Champion title despite beeing sparingly shown. She has done very well at the Lure Coursing field with 3 CAC's, only one CAC away from her Champion title. She runs after the lure with the passion and eagerness of a real hunter, not caring for anything but to catch the lure. Most important, Zibiah is the best companion imaginable. She enjoy's hikes on mountain tops and cross country skiing as much as she enjoy's a lazy day on the couch together with her family.

Timmy also gained his Show Champion title easily. He was shown only 16 times his whole life, with 6 BOB/BOS placings and 3 Norwegian CACIB. He never got to try Lure Coursing, but we believe he had it in him like so many other Caravan Salukis. He for sure was a great companion for his family,
with a wonderful and kind soul with a lot of humor!
Timmy's mother, Caravan Qatiifah Bint Jabiya, was very special to us.
You can read more about Teefah on her own page her.
Timmy's father, Caravan Rashiq Ibn Saad, also has his own page her.



Almost 20 years ago I was able to collect from Ch. Al Yaman Najaah and Ch. Al Yaman Pagan which was safely stored in the Hawkes Bay here in New Zealand. Najaah was the result of a grandmother/grandson mating which occurred accidentally whilst I was overseas and a friend looking after my Salukis. His sire was Ch. Al Yaman Jamil who's sire was Knightellington/Windswift (Ch. Al Yaman Ihsaan) and who's dam was granddaughter to New Zealand's only Grand Champion Saluki, Gr.Ch. Knightellington Rogaiya. Najaah's dam was NZ/Aust. Ch. Knightellington Vivat Al Yaman imported from Helen and Rosemary in the UK. The puppies were all beautifully sound and all loved to hunt. One went to America where he qualified for the Grand Course but didn't compete because of his owner's health problems at the time. Although too closely bred, I considered these Saluki bloodlines too valuable to lose and was very glad I did collect both boys.

Whilst visiting Rosemary and Chris Lewis I fell in love with their Dakhilak Shalm who was one of the soundest Salukis I had ever seen. He could hunt too! I was very lucky to have a puppy from the mating between Shalm and Ch. Knightellington Zafra (Magic). Shalm's sire is Pip Buswell's Sunswift Dil Bahadar and his dam is Dakhilak Talqa. Magic's sire is Ch. Asayaad Yimkin from Knightellington and her dam was Ch. Knightellington Equisite, the chocolate girl! My Ch. Knightellington Ana Al Yaman ADX, JD was such a loving, amazing girl. She was the first Saluki to compete in agility here in New Zealand and won many ribbons looking quite different in the line up of all those Border Collies! She loved to hunt and won a
Best in Field at one of our Lure Coursing trials.

I tried many times to have puppies from her but without success despite trying different sire's. Rosemary and Chris mated Ana's sister, Knightellington Asira (Tigger) with Pip's Sunswift Atiq (Ch. Labakan Ikteer Takhar x Dakhilak Shenavah) with a view to sending me a bitch to breed with the precious semen I had stored. There was only one bitch puppy who sadly died whilst still young so I imported her brother as company for Ana. Ch. Knightellington Cass of Al Yaman CCh was also very beautiful, loved to hunt and course and became a Lure Coursing Champion. I also did obedience with him and some agility. All these Salukis I am discussing were sound, beautiful and did well in the Conformation Show ring winning Group as well as General Special awards.

Cass and Ana eventually had puppies, one boy and four girls. It was my intention to mate one of these girls with Najaah's semen with a view to using a daughter of that mating with my Pagan semen which I intended to be my last litter and I know a gift to the Saluki world capturing all those old hunting bloodlines. I chose to give that litter to Ellen Podivinsky of Mwinda as she had had no luck with her attempts to breed a litter. Najaah and Shaadin had NINE puppies and so Zibiah went to Linn Mari where she has enjoyed much success and seems very well loved. Her brother is with Per and Karin Nordahl and he, also, is very much loved. He has recently sired a litter in Sweden.

I have enjoyed a long association with Lotta Brun and was very excited when Linn told me of her planned litter from her Caravan dog. I have enjoyed my association with Salukis since the beginning of 1972 and have always been captivated with the beautiful soundness and conformation of the Knightellington Salukis, their grace of movement and their instinct to hunt. Their temperament is loving and I have had so much fun with Ana and Cass's daughter, Saala, teaching her tricks and making fools of ourselves with Paws and Music! Yes, she does roll over, play dead and beg!!! Some of that fun and mischief also comes from Pip's contribution to these extraordinary Salukis. I concur with Lotta her philosophy which I learned from Helen Baker: that your Saluki should win on the show bench as well as bring home your supper.

I am confident that all of mine over the years would have fulfilled that requirement. All we can do now is keep EVERYTHING crossed that there are puppies from this mating. Fantastic, girls.

Carole Tipler, Al Yaman Salukis


Timmy x Zibiah Qatiifah C-litter
I am sitting here with a printed trial pedigree in front of me... The planned C-litter of Qatiifah Salukis in Norway.
My first saluki was born over 50 years ago, the 16th of August 1968, when I was 9 years old. His name was Ch El Kelus Fasir "Asir", a son of Ch Asphodel Arabis. He was the start of my life with the Saluki breed, showing and later also breeding.
My lines are still today very close up to Asir´s litter sister Ch El Kelus Farissla that was the dam and grand dam of my 2 first females; Ch Sahrai Gahziana and Ch Sahrai Hannah el Shammar. Through the sire of the litter; Ch Caravan Talisman, this upcoming litter will be the 5th generation from both Ziana and Hanna that were born over 40 years ago in 1977 respective 1978.
Ch Asphodel Arabis sire was Mazuri Knightellington George, a son of the precious Ch Knightellington Victory. In the pedigree of Caravan Talisman the old Knightellington lines are woven back into newer lines from this famous kennel; mainly through my imports Asayaad Jiruwan al Caravan (GB) and Al-Yaman Malak (NZ).

Through Asayaad Jiruwan al Caravan, that appears two times behind Talisman, the lines are enriched with pure COO blood via Shamsa Bint Sha´awa Bint Warda, bred by Michael Ratcliffe (UK).
Talisman also has a line going back to Hanna´s litter brother Sahrai Hazuk al Nafud 2 times via Dar el Hindiyas breeding, here combined with old valuable Windswift lines.
The dam of this planned litter is Mwinda Zibiah from New Zealand, bred by Ellen Podivinsky, and both parents are from Al Yaman Salukis (Carole Tipler). Her pedigree is a perfect blend to Talisman´s, going back to the old Knightellington lines.
This is a very well balanced breeding, that should produce strong beauty and performance Salukis. The Knightellington salukis have always, for 3 generations of breeders, been competitive coursing hounds. My own philosophy has from the beginning been "beauty and function hand in hand" and a huge number of Caravan Salukis have excelled in Lure Coursing.
Puppies from this combination would be a fantastic way celebrate 50 years with Salukis!
Lotta Brun, Caravan Salukis
All pictures Copyright Linn Mari Sørgård & Bente Waldal